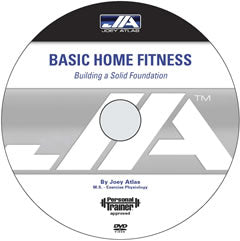 Secured, Protected and Trusted Checkout With:
LIMITED-Time Special includes FREE Global Shipping ($19.95 value) DVD is region free and plays in all countries
This 3 level DVD is perfect for 'fitness beginners' of any age. From 9 to 89 years old – this approach will help you safely get started on the right path to fitness improvement.
No complicated dance moves or tacky, loud music – it's just me and you, one-on-one. It's like having a personal trainer, except you can't talk back to me or curse me when I'm showing you what to do.
Also great for personal trainers who work with clients in their homes – I go through several variations of each exercise – showing you how much can be done with no machines and no heavy barbells. All you need is a basic mat, a chair and some light hand weights (dumbbells).
If you don't know where to start or are afraid of trying things you attempted in the past – then this DVD is exactly what you need. It comes with my 'One Year, Atlas Guarantee':
You have a full year, 365 days, to put it to use – if you are not satisfied with your results – just return it to us and get your $28 refunded – I don't want you to pay me for something that didn't deliver on my promise to you. Fair enough, right?